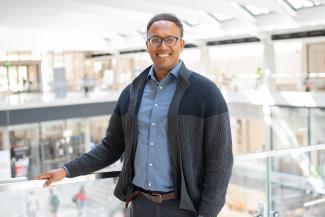 Shwetadwip Chowdhury of Texas ECE has been awarded a Scialog: Advancing BioImaging award from the Research Corporation for Science Advancement, the Chan Zuckerberg Initiative (CZI), the Frederick Gardner Cottrell Foundation, and the Walder Foundation.
Chowdhury, together with Heather M. Whitney of the University of Chicago, received the award for their work on "Developing Multi-Angle Synthesized Ultrasound Tomography." 
Scialog is short for "science + dialog." Created in 2010 by RCSA, the Scialog format supports research by stimulating intensive interdisciplinary conversation and community building around a scientific theme of global importance. Teams of two to three Fellows who have not previously collaborated compete for seed funding for high-risk, high-reward projects based on the ideas they develop at the conference. 
"Scialog is built on collaborations, and we at RCSA think that we should practice what we preach, which is why we bring in funding partners," said RCSA Senior Program Director Andrew Feig, who led the initiative. "Melding networks of people, whether it's from the foundation side or at the bench, is how we can push forward science together." 
Project Abstract
Ultrasound imaging is valuable in medical diagnostics due to portability, flexibility, and cost-effectiveness. However, challenges like limited field-of-view and speckle artifacts impact its accuracy. These issues lead to high false negative and positive rates in diagnosis. New ultrasound technology improving imaging field-of-view and artifacts would significantly improve the diagnostic utility of ultrasound imaging.
Separate from ultrasound technology, recent advances in optical imaging, such as synthetic aperture, plenoptic acquisition, and low-coherence technology, synthesize large-scale 3D images using multi-angle data. This project aims to adapt these developments to ultrasound imaging, to enable 3D speckle-free ultrasound imaging over large fields-of-view. Furthermore, this project aims to implement these developments in a manner that minimally disrupts existing clinical workflow.
This project represents a dynamic collaboration across disciplines and institutions. It will be jointly led by Chowdhury and Prof. Heather Whitney (University of Chicago, Dept. of Radiology), whose expertise are in computational optics and clinical imaging, respectively.
Shwetadwip Chowdhury is an Assistant Professor and Fellow of the Jack Kilby/Texas Instruments Endowed Faculty Fellowship in Computer Engineering in the Department of Electrical and Computer Engineering at the University of Texas at Austin. His research interests are in developing next generation optical imaging technologies for applications in science and medicine. A key emphasis in his work is the joint design of novel optical imaging systems and advanced computational frameworks. This co-design of hardware and software enables imaging capabilities not possible in traditional optical imaging systems.