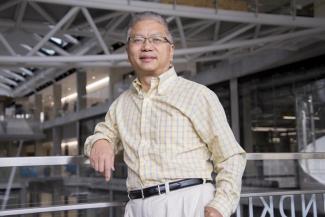 A new battery technology is poised to boost electric vehicle capabilities by increasing how far a vehicle can go on a single charge and enabling more sustainable transportation. It could help usher in a future where electric vehicles play a major role in redefining mobility and environmental responsibility.
This technology is getting closer to reality as a research team from the Chandra Family of Electrical and Computer Engineering was recently accepted into the National Science Foundation's National I-Corps program – which aims to accelerate the transformation of cutting-edge research into real-world applications. Through the program, they will work toward the commercialization of their M3 Battery Inverter technology.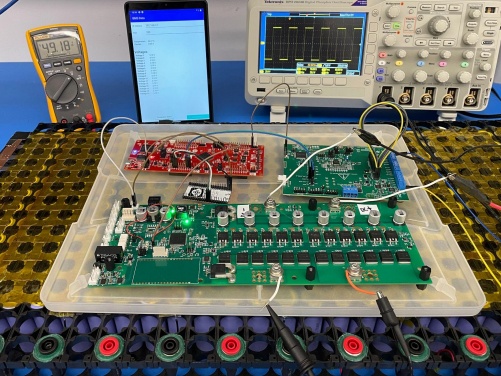 The M3 Battery Inverter is a technology that does two things at once: it works with batteries and something called an inverter, which inverts the DC power from the battery to the AC power for motors. Electric vehicle batteries typically feature a system that controls everything from a central point.
But the M3 Battery Inverter does things differently. The device divides control of battery voltage and output power into several smaller sections and fine tunes the voltage and output power for each section. It pairs with a  traditional inverter that powers the entire battery pack, allowing more flexibility in controlling individual battery cells. Because of this, the M3 Battery Inverter makes batteries more efficient in their use of power and energy.
Alex Huang, a professor in the Chandra Family Department of Electrical and Computer Engineering at The University of Texas at Austin, along with his team of graduate students Peng "Patrick" Han and Rishab Anand, with their Texas Venture Mentoring Service mentor, Thomas Ortman, a veteran of clean energy technology and startups, as part of the I-Corps program.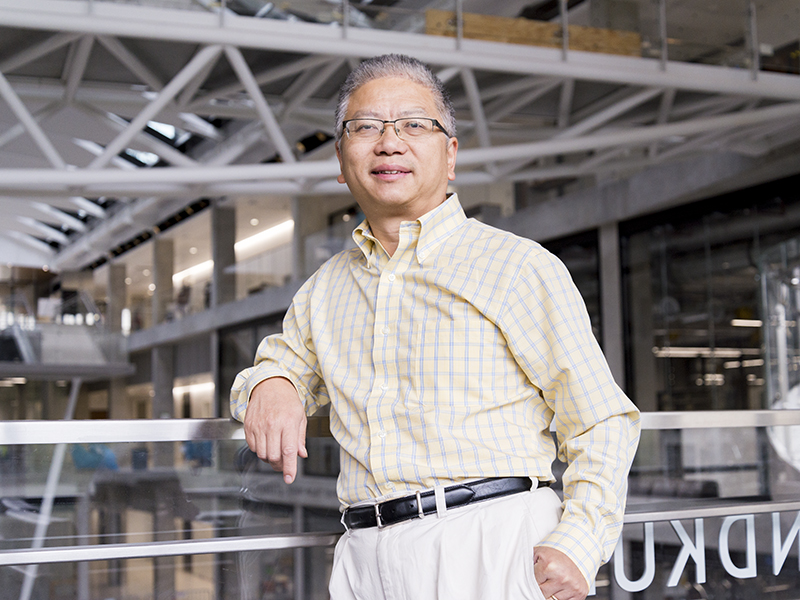 Huang, recipient of the NSF Partnership for Innovation-Research Partner grant, expressed his excitement about participating in the I-Corps program and industry research partnership with BMW North America, which aims to accelerate the transformation of research into real-world applications.
"The acceptance of our team into the National I-Corps program is a thrilling opportunity to propel our research towards real-world applications," said Huang. "We are confident that this technology has the potential to revolutionize the EV market by offering more affordable, efficient, and sustainable electric vehicles."
The M3 Battery Inverter technology could play a key role in a more sustainable future for the EV industry, offering increased efficiency, reduced charging times, and improved overall performance through an estimated 99% inverter efficiency and 10% increase in vehicle range. The granular battery management technology, integrated battery, and power electronics enhance safety, reliability, and battery life by reducing stress on weaker cells, effectively increasing energy sustainability and battery efficacy.
The commercial application of the M3 Battery Inverter technology holds great promise for the  EV industry, which has experienced exponential growth, with a projected valuation of $986 billion by 2027.
Through I-Corps programming, Huang, Han, Anand, and Ortman will engage in programming designed to help them successfully commercialize their technology to meet market expectations in terms of cost, range, charging time, safety, and charging infrastructure.
As the EV market continues to grow, the demand for innovative technologies like the M3 Battery Inverter is expected to soar. Huang's team is eager to advance their research with the support of the I-Corps program, generating traction with EV original equipment manufacturers to further transform their technology and make a tangible impact on the world of electric vehicles.
Huang's team invites anyone interested in assisting with their customer discovery process to visit his website. Learn more about the NSF I-Corps program here.